Yes, Honda clocks are self-correcting.

Reports and comments from owners indicate your Honda clock should be correcting itself as of Aug 17, 2022.

Owners are reporting their time is fixed but the date is still incorrect (stuck in 2003.) This may self-correct as the day goes on or, as the repair procedure mentions, "…the date will always be incorrect and stay incorrect. There is no solution to correct it."
Last updated: August 17, 2022 7:20 AM PST
The Situation:
Honda and Acura cars as old as 2004 and equipped with navigation are showing incorrect date and time settings. Date often shows January 1, 2002 (or another month and day in 2002) and time is stuck and cannot be adjusted.
The Cause:
Honda's head unit receives a GPS signal for date and time including a number representing a week, coded in binary. These digits count from 0-1024 and rollover to 0 after the completion of week 1024. Honda's head unit supplier did not code their head units to account for the rollover and, on January 1, 2022, reverted to a date and time 1024 weeks in the past.
Honda's response:
Honda is aware of the issue and says it will self correct sometime in August.
A reply received by a Honda Civic owner on January 18 reads like Honda did a cost/benefit analysis and is leaning towards doing nothing, confident that the situation will resolve itself in August.
"Thank you for contacting American Honda regarding your concern about the Clock Reset in your 2007 Honda Civic. We want to thank you for providing us with the opportunity to respond to your message. On behalf of American Honda Motor Co., Inc., we apologize for the circumstances which prompted you to contact us."
"We appreciate you taking the time to make us aware of your concern regarding the feature, and we understand your frustration regarding the matter. Upon further review of the circumstances regarding this known issue, we do not have a current fix at this time, but the issue should be expected to resolve itself summer 2022."
"We are very sorry for the inconvenience and welcome you to reply to this email with any additional comments or concerns. Your case will now be closed at this time."
"Sincerely,"
"American Honda Motor Co., Inc."
This happened in the past, and Honda's solution then was to mail out update discs. It took several months.
It's important that everyone affected contact their respective Honda dealerships, making them aware that YOU ARE affected. Your name may or may not be added to a list so they can update you or they may open a case on your behalf to escalate the issue. Regardless, this lets Honda know this is a big problem and it's unacceptable to let it resolve itself in August.
Click here to find your nearest Honda dealership.
Already contacted your local Honda, tired of checking this site or waiting for a reply from Honda, and want an e-mail update from this site instead? Put your name and e-mail in the contact form at the bottom, with "update" or "update me please" in the message box. I'll add your name to an e-mail list and will contact you if I find out Honda is working on a fix beyond doing nothing.
Honda publishes Clock Repair Procedure for dealerships:
Keep in mind, this procedure is for dealership techs to perform on customer cars. If you're any bit handy with a wrench, this procedure should be a piece of cake. Otherwise, don't be afraid to ask for help.
Photos of the above PDF below.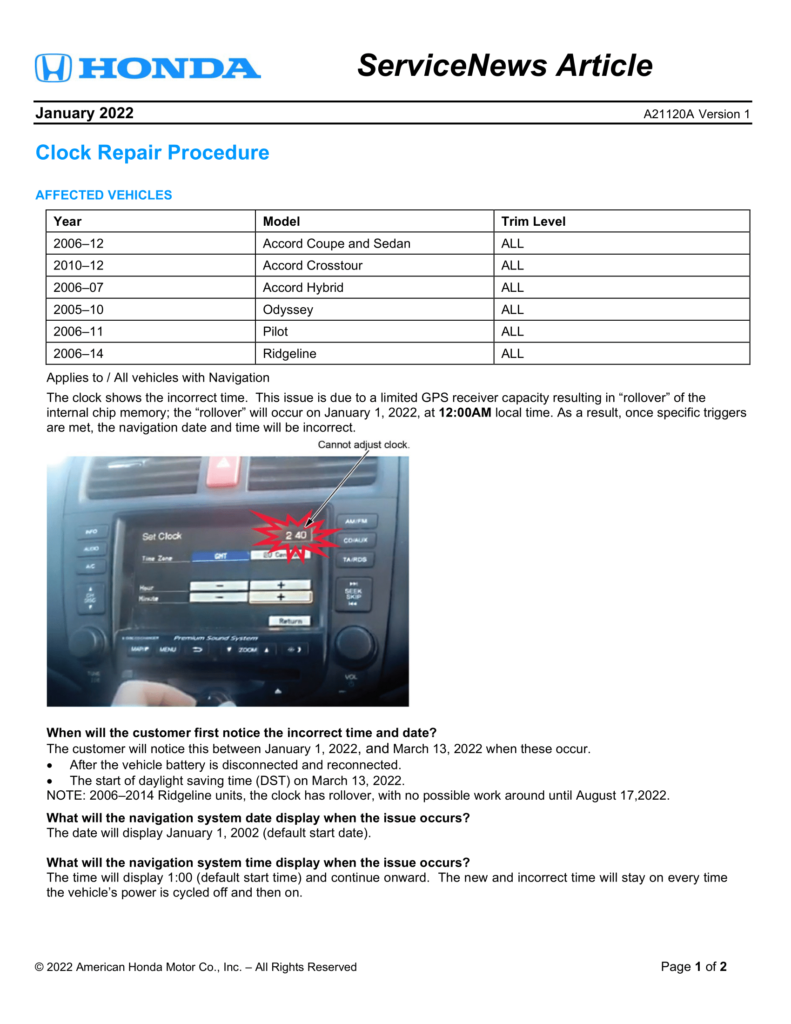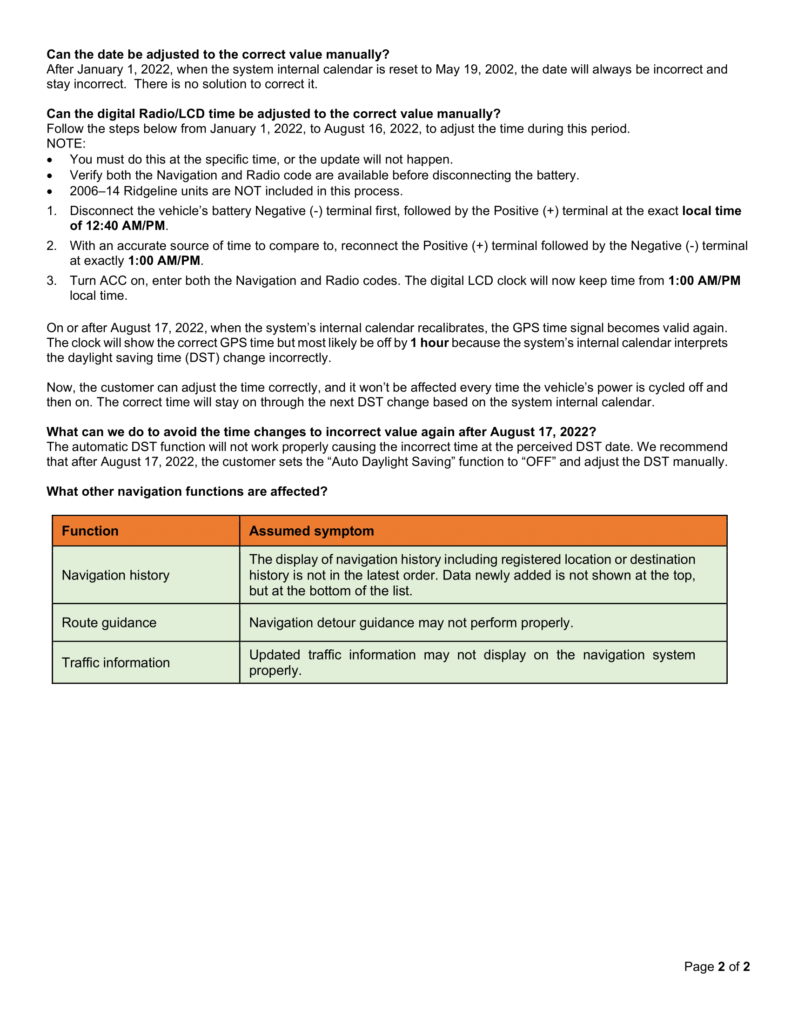 Addressing lack of updates on this site:
If you notice no new updates, it's because I'm currently not aware of any new updates from Honda. Sources are checked once a day in the morning and, if I find no new official information from Honda, I update the day counter and move on.
In the news:
Add your name to this site's e-mail update list or to leave a message: